Contact Us



Email:

info@xinrong.net

Skype: info.xinrong

Telephone: +86-512-89598726
Mobile: +86-13115119251
Address:East Jinnan Road, Jinfeng Industry Area, Zhangjiagang, China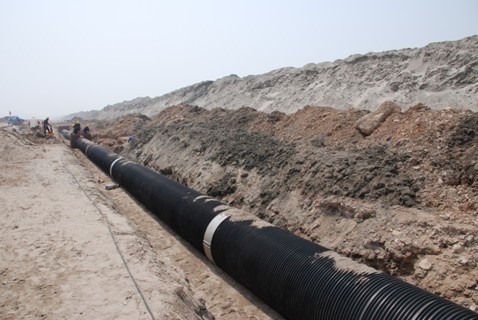 Drainage Pipe Extrusion
Superior Plastic Pipe
Sealing of more and more natural land surfaces leads to rising volumes of water flowing into the sewerage system, overloading water treatment plants and discharge systems and increasing the risk of flooding. Sealing of land also causes the groundwater level to fall. Rising costs for drinking water are an unpleasant consequence. Correctly planned drainage systems for targeted extraction of water from the soil and drainage of rain water and surface water are therefore of paramount importance for modern road construction and the structural stability of buildings. The term drainage covers all measures that make it possible or easier for water to run off. In all such measures it is also important to prevent erosion of the top soil.
While in the 1950s and 1960s unglazed, porous earthenware pipes were laid underground and surrounded with slag, today exclusively perforated plastic pipes are used. Preference is given to PVC, PE or PP pipes which quickly established themselves in the market thanks to their easy transport and handling properties, durability, light weight and cost-efficiency. The non-pressure plastic pipes provide protection against chemical loads through acids and alkalis, and are also resistant to weathering and corrosion.
Depending on the environment in which they are laid, either perforated, fully walled pipes or corrugated pipes up to DN500 are used.
Select Your Solution Now
HDPE Double Wall Corrugated Pipe Extrusion Line>>
UPVC Double-wall Corrugated Pipe Extrusion Line>>
HDPE Hollow Wall Winding Pipe Extrusion Line>>
Steel Reinforced Spirally Wound PE Drainage Pipe Extrusion Line>>
Give Us your Feedback
If you have any problems or questions about our products or need our support and assistance, please feel free to write us, we will reply to you within 24 hours, and never reveal your information to the third party. Thank you!