Contact Us



Email:

info@xinrong.net

Skype: info.xinrong

Telephone: +86-512-89598726
Mobile: +86-13115119251
Address:East Jinnan Road, Jinfeng Industry Area, Zhangjiagang, China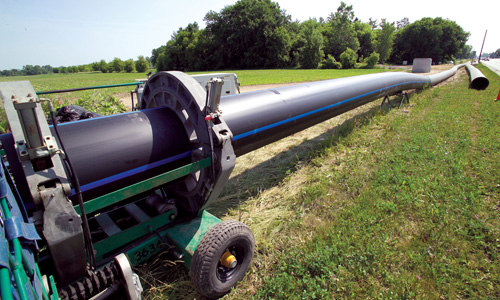 Drinking Water Pipe Extrusion
Superior Plastic Pipe
While the global population tripled in the course of the 20th century, the consumption of renewable water increased 6-fold. In the next 50 years, the world's population is expected to grow by another 40 to 50 per cent. In combination with ongoing industrialization and urbanization, this growth will lead to a further increase in water consumption and have a noticeable impact on the environment.
Thanks to their easy laying, installation and maintenance properties, their light weight, resistance to incrustation and corrosion and their long service life, plastic pipes for drinking water transport are on the increase worldwide. Plastic pipes are hygienic, inexpensive and ecologically advantageous.
Preference is given to pressure pipes made of polyethylene, but also of PVC, as they possess the necessary chemical resistance and rigidity for underground laying. Both materials are longestablished in extrusion; PVC and HDPE pipes also comply with the stringent international quality standards and are recyclable.
Select Your Solution Now
PE Pipe Extrusion Line>>
Give Us your Feedback
If you have any problems or questions about our products or need our support and assistance, please feel free to write us, we will reply to you within 24 hours, and never reveal your information to the third party. Thank you!