Contact Us



Email:

info@xinrong.net

Skype: info.xinrong

Telephone: +86-512-89598726
Mobile: +86-13115119251
Address:East Jinnan Road, Jinfeng Industry Area, Zhangjiagang, China

Export Situation of Extruder in China first half 2014
According to the data provided by Chinese Custom: in first half 2014, extruders exported from China is 4,857 units, down by 14.7%. Export amount is $148.89 million, down by 0.1%. Among exported extruders, pelletizing machines with HS code of 84772010 exported 1,500 units, down 2.4%. Export amount is $37.02 million, rise by 25.5%. Overall, although Chinese exported quantity of extruders has declined in first half 2014, it declined marginally.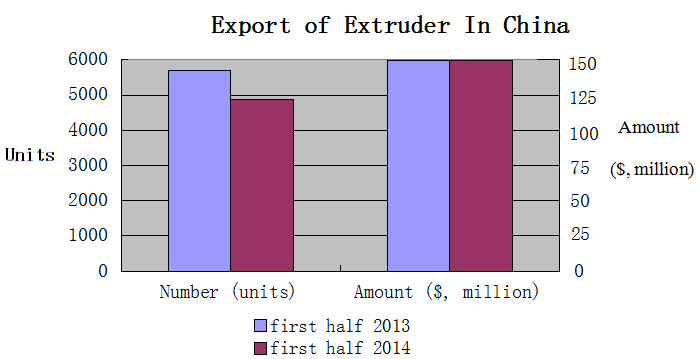 From monthly statistics in first half 2014, export volumes of February and May declined dramatically, exports of rest months remained good. Among them, in June, China have exported extruder 966 units, up 4.3%, grew by 34.0% compared with May, exports amounted to $ 25.3 million, down 3.5%, fell by 1.4% compared with May. The average price of extruder exported by China is around $30,000 dollars / units, but in June the price fell to $26,000.
Although export amount fell 17.0% year by year, Russia remains the main importer of Chinese extruder. Amount of extruder exported to Russia took around 9% of total value of extruders exported from China. Followed by Vietnam, export amount and units of extruders have increased significantly. In the first half year, for both countries of Russia and Vietnam, the number of extruders exported reached above 350 units and amount exceeded $10million USD. In the first half year of 2013, number of extruders exported to Indonesia followed after Russia. However, this year the amount exported to Indonesia decreased dramatically and ranked No.3. Number of extruders exported to Thailand ranked No.4. Although number of extruders decreased little, the export amount fell dramatically.
Extruders exported to United States and South Korea increased significantly, in particular, the number and amount of extruders exported to United States increased around 3 times.
However, even though number of extruders exported to Korean market increased very much, the number only is 60 units.